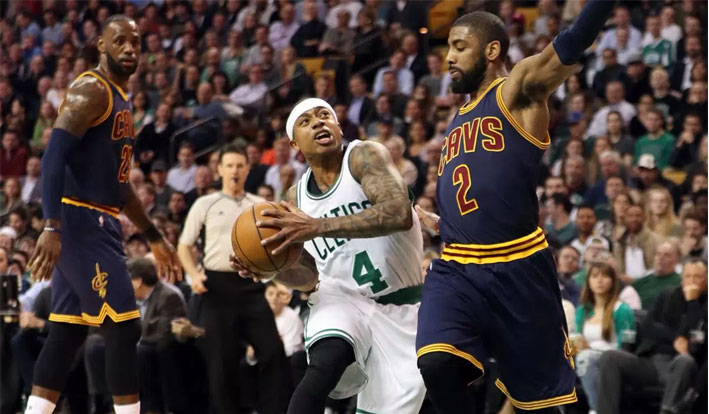 Boston at Cleveland NBA Playoffs Lines & Game 4 Expert Prediction
NBA betting odds
on Tuesday.
Boston at Cleveland NBA Playoffs Lines & Game 4 Expert Prediction
.
When
: Tuesday, May 23, 2017; 7:30pm CT
Where
: Quicken Loans Arena; Cleveland, OH
TV
: TNT
Radio
: 
Boston
/
Cleveland
Stream Option
: 
NBA.tv
NBA Odds
: Cleveland Cavaliers -14.5
Why Bet on Boston Celtics?
The Boston Celtics played one of the best playoff games in years. The Celtics scored 61 second half points to come from behind 111-108. Boston trailed by 11 at the end of the 1st and 16 at halftime. In that win, the Celtics were without their top scorer; Isaiah Thomas. Thomas will miss the rest of the postseason. The Celtics saw six players score in double figures in the win. Marcus Smart had his best game of the postseason; scoring 27 points, dishing out 7 assists, and grabbing 5 rebounds. Jae Crowder also had a big game, with 14 points and 11 rebounds. The Celtics won on the road to snap their four game road losing streak.
Why Bet on Cleveland Cavaliers?
The Cleveland Cavaliers scored just 21 points in both the third and fourth quarter in the loss. Cleveland saw LeBron James have his worst game of the postseason. James scored just 11 points in the loss. Cleveland has been outstanding on the offensive end this series, scoring 118 points per game. The Cavaliers scored 110 points per game in the regular season, and allowed 107.2. The Cavaliers are looking to get back to the NBA Finals for the third straight season. Last year, Cleveland came from down 3-1 in the NBA Finals to down the Golden State Warriors for their first NBA title.
Expert Score & Prediction
The Cleveland Cavaliers are going to be awfully irritated following blowing the big lead in Game 3. Now, the Cavaliers are going to have to go back to Boston, a place they didn't really want to go. Look for the Cavaliers to come out and play better, and stay better in this game on Tuesday and win easily. The point spread is still too high. The Celtics not only covered the large spread in Game 3, but won the game outright. Now, Boston is going to cover the spread again, but this time Cleveland wins. The final bet for this game is the Cleveland Cavaliers -14.5 over the Boston Celtics on Tuesday.