Optimism is running high in the northernmost reaches of CONCACAF, as Canada only needs a draw against Honduras to reach the quarterfinals of the CONCACAF Gold Cup for the first time in eight years.
The Canadiens are underdogs to beat Honduras in the CONCACAF Gold Cup matchup on Friday
. The Canadians combined a sparkling goal from 16-year- old talent Alphonso Davies with solid defense to secure a 1-1 draw with Group A favorite Costa Rica. Davies was the first player to tally three goals in this year's Gol0d Cup — although he did have to leave in the 69th minute with an ankle injury that leaves him questionable, at least in a starting role, for the group finale. Honduras has yet to score a goal in either of their group play matches thus far. As you consider your sports betting for the weekend, take a look at our insights into this matchup.
Canada vs Honduras 2017 CONCACAF Gold Cup Odds & Prediction
Travel day is full of smiles when you're top the group… #CANMNT #GoldCup2017 pic.twitter.com/bVihCaMQKy

— Canada Soccer (@CanadaSoccerEN) July 12, 2017
When
: Friday, July 14, 2017, 10:00 PM ET
Where
: Toyota Stadium, Frisco, TX
TV
: TSN2 (CAN) / FS1, UniMás, Univision Deportes (USA)
Radio
: None
Live Stream
:
FOX Sports GO
/ univisiondeportes.com
CONCACAF Gold Cup Odds
: Canada PK+129, +225, U 2 -106 / Honduras PK-149, +143, O 2 -114 / Draw +210
Why should you bet on Canada?
Even if Davies has to start the match on the bench and come into the game later on, this is a deep Canadian roster. Of the 13 midfielders that the side brought to the Gold Cup, Tosaint Ricketts and Jonathan Osorio fill strong leadership roles at Toronto FC, and Anthony Jackson-Hamel and Patrice Bernier carry out similar responsibilities for the Montreal Impact, and both MLS clubs rely heavily on those four men. Also, goalkeeper Milan Borjan (MKS Korona Kielce in Poland) picked up Man of the Match honors, as he posted 10 saves against a Costa Rican side that turned up the pressure in the second half to try and take three points out of this matchup. Costa Rica went all the way to the quarterfinals in the 2014 World Cup, so this was certainly a quality draw — and Costa Rica brought their "A" roster instead of bringing second-string lineups as Mexico and the United States have.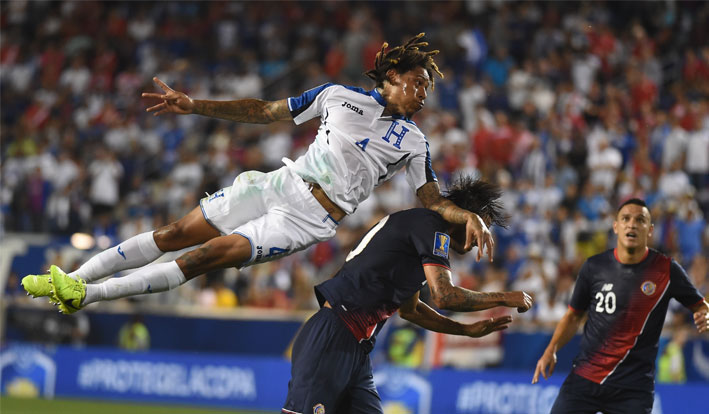 Why should you put your money on Honduras?
Honduras is going through significant issues right now on the offensive side of the ball, as they have now failed to find the back of the net in three consecutive Gold Cup matches. Their scoreless draw against French Guiana could turn into a 3-0 forfeit victory (as French Guiana played ineligible captain Florent Malouda, and the Gold Cup disciplinary committee could turn the match into a forfeit). They did play close to Costa Rica in their group opener but still fell 1-0. The lack of goals does not mean that Honduras is not generating chances. Maynor Figueroa (FC Dallas) and Romell Quioto (Houston Dynamo) have posted three shots each per game. However, Luis Lopez (Real Espana) had to post 10 saves just to keep the game level, and French Guiana also put a shot off the post that could have given the first-time Gold Cup entrants three huge points. Honduras has gone through a puzzling slump on offense since winning the Copa Centroamericano — remember, along with the United States and Mexico, they are the third seeded team in this Gold Cup. They excel by using their defense to draw in the opposition and then push forward on the counterattack, and when that works, they can turn the tables in a hurry. However, in recent months they have not been securing as many chances, and they have not been converting the chances that they are getting. If Canada lacks Davies, this could turn into a matchup of wary defensive teams — and the draw doesn't help Honduras, but it does send Canada to the quarterfinal round.
Predicted Lineup
Canada
18-Milan Borjan
23-Michael Petrasso
5-Dejan Jakovic
19-Steven Vitória
17-Marcel de Jong
6-Samuel Piette
10-David Junior Hoilett
20-Patrice Bernier
8-Scott Arfield
12-Alphonso Davies
9-Lucas Cavallini
Honduras
1-Luis Lopez
5-Ever Alvarado 3-Maynor Figueroa
4-Henry Figueroa
21-Brayan Beckeles
16-Ovidio Lanza
6-Bryan Acosta
8-Alfredo Mejia
10-Alex Lopez
12-Romell Quioto
17-Alberth Elis
Rivalry History
Games Played: 22
All-Time Series: Honduras 11-4-7
Current Winning Streak: Honduras (1)
Largest Margin of Victory: Honduras. September 2nd, 2012. Score: 8-1
Longest Streak: Honduras (2005-2009)
Recent Game History
Canada
Tie – July 11th, 2017 vs. Costa Ricaa. CONCACAF Gold Cup. Score: 1-1
Won – July 7th, 2017 vs French Guiana. CONCACAF Gold Cup. Score: 4-2
Won – June 13th, 2017 vs Curacao. International Friendly. Score: 2-1
Tie – March 22nd, 2017 vs Scotland. International Friendly. Score:1-1
Won – January 22nd, 2017 vs Bermuda. International Friendly. Score: 4-2
Honduras
Tie – July 11th, 2017 vs. French Guiana. CONCACAF Gold Cup. Score: 0-0
Loss – July 7th, 2017 vs Costa Rica. CONCACAF Gold Cup. Score: 1-0
Tie – June 13th, 2017 vs Panama. World Cup Qualifiers. Score: 2-2
Won – June 8th, 2017 vs Mexico. World Cup Qualifiers. Score: 3-0
Tie – May 27th, 2017 vs El Salvador. International Friendly. Score: 2-2
Expert Pick and Final Score Prediction
Canada looked particularly impressive in their draw with Costa Rica — but I see them drawing back and taking things conservatively in their matchup with Honduras. I predict a scoreless draw as Canada prepares to advance and simply holds Honduras at bay.